Simone
Vintage beauty - 1959
Simone DayancourtPhoto: Henry Clarke
---
Green Apple
Out and about in Stockholm last night wearing these two finds from H&M.
"Som en liten äppelbit."
top - H&M / gold skirt - H&M
---
Beach Baby
Today's outfit looks a little something like this.  Borrowed the tank from my boyfriend cause it's just so big and comfy on me.  Was tempted to pair it with my pink jeans shorts, but opted against it (gotta switch it up every once in a while.)  Since I needed something pink, I chose a pink bag to complete the ensemble instead.  It used to have a pink plastic strap, but it wasn't very cute so I made a chain strap for it instead.
Dagens outfit. Tänkte första ta mina rosa jeansshorts men det fick bli ett par andra idag.  Kompletterade med en rosa väska istället.
shirt - Blueprint / shorts - cut off Express jeans / bag - Monki
---
White & Black
Going about town today wearing this outfit.  It's so lovely out - finally dress weather!
dress - Indiska / shoes - Din Sko / hat - Esprit


---
Freckles & Fringe
I've always had a thing for drawing/painting portraits - which initially sparked my interest for fashion sketching.  This is a sketch I made a while ago using pencil and charcoal.
Jag har alltid gillat att måla porträtt - vilket väckte mitt intresse för modeskissande.  Den här tecknade jag med blyerts och kol.
---
Take Me To Paris
I am in love with pretty much everything about this picture.  Makes me want to travel. 
Also makes me want to own those shoes.
När jag ser den här bilden vill jag åka till Paris.  Och ha dem skorna.
image:
thesartorialist
---
Hair Knot
This double hair knot is a simple and elegant solution when you find yourself without a hair-tie (or when you just don't feel like using one.)
Att knyta håret i en dubbelknut funkar fint när man inte har en hårsnodd (eller inte vill använda en.)
How to achieve this look in 6 easy steps:
1)  Apply mousse for added texture.  Split hair into two even sections.
2) Tie the two sections together, pretty much like you would tie any knot.
3) Pull tight.
4)  Simply repeat steps 2 & 3 for a double knot.
5) Slightly twist.
6) Secure using bobbypins.
And that's it - you're set!
---
I Wouldn't Mind
..wearing this today.
Skulle inte klaga om detta hängde i min garderob.
Sfilata Balmain Paris
Pre-collezioni Primavera Estate 2013
Image: Vogue.it
---
Blonde On Blonde
Most days I'm happy with the color of my hair.  It's nice.  Sometimes, though, I'm tempted to drastically change the way I look.  This picture fools me into thinking that perhaps I could pull off bleached locks..? I mean, that girl has brown eyes, dark roots. Reality kicks in and I remember the time I "accidentally" dyed my dark hair blonde. Disaster.
Alas, I will never be blonde.
---
Daily Dose / 25 July, 2012
Something about white dresses..
---
Orangina
Tonight, I'm wearing this little orange get up.
shoes - Zara / dress - H&M
---
White Lace
That dress.. that hair.  This look is today's inspiration.
Bless'ed are the meek, backstage, SS/2012
---
Follow Me
Like my blog?
.. then follow me on Bloglovin  >>> 
ARCTICSUMMER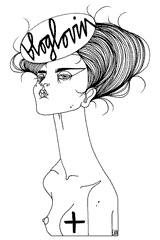 ---
Buttoned Up
Daily / Pink shorts and black denim shirt, worn with a hat and a cozy pair of moccasins.
shirt - Gina Tricot / shorts - American Eagle
---
Countryside
On a day like today, I feel relaxed and free.  Country-bound for the weekend to spend some quality time with nature.
Idag känner jag mig ledig och avslappnad.  Ger mig ut på landet för att spendera lite välbehövlig tid i naturen..
---
Haute Couture
When feeling whimsical..
---
Blue
After a while, I got tired of looking for bedside tables, so this became a quick (and cheap) solution.  I bought cube shelves from IKEA and painted the insides using napkins and clear varnish.  If you're interested, I can give a more detailed description of how to do it.
Efter ett evigt och misslyckat letande efter sängbord blev det här en snabb (och billig) lösning.  Jag köpte två kubhyllor från IKEA och skruvade upp en på var sida av sängen.  Innan jag satt ihop och monterade upp dem målade jag insidan med papperservett och lack.  Om ni är intresserade kan jag ge en mer detaljerad beskrivning på hur man gör.
---
House of Givenchy
Givenchy Haute Couture,followed by Givenchy Fall/Winter 2012 Collection
____________________________________________________________________________________
Vad tycker ni om kollektionen?
---
Shop My Closet
These items are being sold right now at
ArcticSummer
on Tradera. 
Time is almost up, so make a bid before you miss your chance (!)
Auktioner på Tradera som avslutas snart
:
---
Morning Glory
Lovely morning.  First summery day in what feels like weeks (!) Breakfast on the balcony and the morning glories are finally in bloom.
Härlig morgon.  Första varma sommardagen på vad känns som flera veckor.  Frukost på balkongen och blomman-för-dagen har äntligen slagit ut.
---
By Night
Last night, I wore this white dress from Filippa K that I wrote about in an earlier post.  With it, these electric blue suede and sliver heels from Zara. I like how the simplicity of the dress makes the shoes pop.
Igår kväll hade jag den här vita klänningen på mig som jag skrev om i ett tidigare inlägg.  Till den blev det ett par blå/silver skor från Zara.  Jag gillar hur skorna bryter av mot klänningens enkelhet.
dress - Filippa K / shoes - Zara
---
To Die For
These gorgeous dresses from J. Mendel's Resort '13 collection. Heaven.
Drömklänningar från J. Mendel.
Which dress is your favorite?
---
Caught In The Rain
Captured these beautiful roses growing alongside a house as I was biking home in the rain yesterday.  The sun was peeking through the clouds and it was that special kind of rain that you only really experience in the summer.. where it's raining on one side of the street and perfectly dry on the other.
Rosa rosor i sommarregnet.
---
Acne Dress

ACNE/ SWEETY FLUID/ DARK OLIVE
Selling this lovely olive-green dress from Acne.  Bought it a couple months ago, then realized it was a little bit too small for me.  It sold out right away, so this is your chance to get it if you want it (!) If you're interested, klick here :
ArcticSummer
Säljer den här fina kreationen från Acne.  Köpte den för ett par månader sedan och nu har jag insett att den tyvärr är lite för liten för mig.  Den är slutsåld, så det här är din chans att köpa den om du vill ha den!  Om du är intresserad, klicka :
ArcticSummer
---
A Thing For Yellow
Lately, I'm really into yellow.  Before that, I had a thing for green and was especially in love with green dresses. I wonder what my next color obsession will be.. ? I guess time will tell.  Today, I'm wearing this yellow number with a pair of black, dressy-type shorts from H&M.  Along with my favorite black wedges, which are surprisingly comfortable and perfect for running around all day at work.
Just nu älskar jag gult.  Innan det så var grönt min grej - speciellt gröna klänningar. Undrar vad nästa färg blir..?
shirt - vintage / shorts - H&M / shoes - WERA
---
Sunflower
Frida Gustavsson masterfully matches sunflower yellow with black for a very elegant bumblebee-look.  Her polkadot shades give the look a fun 60's feel.
Snyggt klädd i gult och svart (och med prickiga solglasögon) är Frida Gustavsson 'very 60's chic.'
Photo: Vanessa Jackman
---
Filippa K
I found this white dress at Filippa K's summer sale.. my first thought when I tried it on was "I want to get married in this dress."  I love the neckline. And pretty much everything about it.  Realistically, I won't be getting married in it, but I'll love it just the same.
Hittade denna fantastiska klänning på Filippa Ks rea. Helt underbar.  Vill gifta mig i den.(Visar bild på hela klänningen senare.
)
---
Oversize Me
Really liking how oversize these coats are.. Especially the first one from Simone Rocha.
Älskar oversize jackan i första bilden. Vill ha..
Simone Rocha and Sportmax
---
Let It Rain
Hoping I won't be needing it, but I'm taking my new yellow raincoat with me today just in case.  Swedish summers can be tricky.
Tar med mig min nya gula regnjacka idag men hoppas att jag slipper ta på mig den.. man kan aldrig lita på en svensk sommar.
jacket - secondhand / shorts, top and belt - H&M
---
Minnetonka, Minnesota
When I go back to the states next month I will be sure to bring back another pair of these babies.  I bought this pair of Minnetonka Moccasins when I was in Minnesota 4 years ago and they are definitely one of my favorites..  In surprisingly good condition for having been worn so much.
När jag åker tillbaka till Minnesota nästa månad måste jag köpa med mig ett nytt par Minnetonka Moccasins.  Jag köpte dessa när jag var där för 4 år sedan och gud var jag använt sönder dem (!)  De är lite slitna men har klarat sig väldigt bra med tanke på hur pass använda de är..

---
Goldilocks
I'm hoping this gold haircuff from H&M is going to make my ponytails less boring..  Since I pretty much always wear my hair up, I need some gold to snazz it up.
Guldig håraccessoar från H&M -  gör hästsvansen snäppet snyggare.
(image: jessicabuurman)
---
Project / Vintage
Right now, I'm creating a 70's inspired top out of this vintage flowered fabric.  I really like how the colors work together.
Just nu syr jag en 70-tals inspirerad top i det här blommiga bomullstyget.
---
Peplum Skirt
Today I'm debuting this turquoise skirt I made in the spring.  It hasn't really been warm enough to wear it, but today the weather is finally right and I'm pairing it with a simple t-shirt and blue/silver stilettos.
Idag har jag för första gången på mig den här turkosa kjolen som jag designade i våras.  Till den har jag en grå t-shirt från Filippa K och höga klackar från Zara.
top - Filippa K / shoes - Zara / skirt - my own design

---
Torn Denim
This fall, the cut-off denim trend carries over and we see torn denim in other articles of clothing : jackets, jeans, tops, and torn items layered together.
I höst fortsätter avklippta jeans trenden och vi ser slitna jeansjackor, jeans, toppar, och trasiga plagg lager på lager.
Vad tycker ni om den trasiga jeanslooken?
---
Mix It Up
This mix of eras is really interesting to me.. French Revolution femininity meets modern day androgony.  Even though it's pretty ridiculous, it appeals to me somehow.  The fantasy of it.  To me, that's what makes fashion so much fun.. The fantastical craziness of it all.
Franska Revolutionens femininitet möter dagens androgyna mode.  Även om det egentligen är ganska komiskt så gillar jag det.  Det är fantasifullt, och för mig är det fantasin som gör mode så kul..  Att det ibland är så fantastiskt galet att det blir magiskt.
Chanel Resort, Pre-Spring 2013Design + Photography: Karl Lagerfeld
---
Dandelion
If feelings can be described in terms of color, today I feel yellow.  Hence the dandelion jacket.
Om känslor kan beskrivas i färg så känner jag mig gul idag.  Typ ungefär som en maskros.
jacket - Selected Femme / jeans, tank and shoes - H&M
---
In My Dreams
.. these lovely creations from Tom Ford.
Underbara skapelser från Tom Ford.
---
Chloé
For years I've worn Miss Dior
Chérie
, but my newest perfume is from
Chloé
.. new favorite?
I flera år har jag haft parfym från Dior men min nyaste doft från 

Chloé

kan vara en ny favorit.
---
Daily / Stripes
Today is a striped dess kind of day.  Threw on this sleeveless dress from H&M with a pair of black wedges.  Bought it 3 sizes too big, but sometimes that just makes the fit different/better.
Idag har jag den här randiga klänningen på mig med ett par svarta kilklackar. Köpte klänningen i storlek 40 fast jag i vanliga fall har 34.. men ibland gör det bara att plagget sitter annorlunda/bättre.
dress - H&M / shoes - WERA
---
Daily Dose / Autumn
Is it crazy that part of me wants fall already?  Mostly for the clothes..
Är det galet att jag redan vill att det ska bli höst?  Mest för kläderna då.
.
Hugo by Hugo BossFall/Winter 2012-2013
Photographer: Alexei HayModel: Freja Beha Erichsen
---
Frida + Chanel
Swedish model Frida Gustavsson looks gorgeous in pretty much anything.  Here she is modelling for Chanel, looking lovely in black tresses and bold statement jewlery.
Svenska Frida Gustavsson är snygg i allt.  Här bär hon upp en skapelse från Chanel, med svart hår och stora guldiga accessoarer.
Frida Gustavsson for Chanel Cruise 2013, Versailles.
---
Daily Dose / Resort 2013
This year is going by insanely fast..  this is a preview of what awaits us in 2013:
Lite av vad vi kan vänta oss år 2013:
Stella McCartney
Suno
J.W. Anderson
Ralph Lauren
The Row
---
Project / Forest Green Dress
Fabrics for a current project (from Tygverket in Stockholm )
Tyger inköpta på Tygverket i Stockholm
---
Early Morning Sun
Lovely to wake up to
---
Bow Tie
Today I feel inspired by gentlemen in bow ties, hats, and shiny loafers.  Girlied up the look with my favorite pair of pink shorts.
Inspirerad av gentlemän i fina hattar och putsade skor, svarta flugor i vita kragar (min fick bli en rosett.)Rosa jeansshorts gör looken snäppet mindre maskulin.

hat - esprit / white shirt - rodebjer / shorts - american eagle / loafers - dinsko



---
Sea
If it weren't so rainy out, I'd want to lay down in this sea of tulips.
Om det inte regnade skulle jag vilja lägga mig ner i det här tulpanhavet
---
Cupcake
In this lovely green dress from H&M, I feel like a cupcake.  Shiny black loafer heels also from H&M.  Vintage belt.
I den här ljusgröna klänningen från H&M känner jag mig som en liten bakelse.  Härligt vårig men funkar även mitt i julivärmen.
Skor från H&M, skärp köpt secondhand.





---
Daily Dose / July 7th, 2012
CHANEL
 
.. spells perfection in so many ways.




---
Tangerine Dream
Enjoying this combination of orange and green.  Tangerine roses and bright colored nails.  New polish from Max Factor.
Gillar den här kombinationen av orange och grön.  Vackra rosor och ny nagellack från Max Factor.



---
White On White
Freshly washed white jeans and white sweater, both from H&M
Nytvättat: vita jeans och vit tröja från H&M
---
Love For Lace
Warm summer days call for pretty summer dresses.  This adorable cotton dress from Indiska is definitely a new favorite.
Vita klänningar och varma sommardagar går hand i hand.  Nya favoriten från Indiska.
---
Rainy Days

Arizona Muse in the perfect raincoat. Wouldn't mind wearing this today..

Den perfekta regnkappan för en soligt regnig sommardag


---